LIVIN' ON TULSA TIME//WHERE TO EAT,DRINK,STAY,AND PLAY...(THE DRINK DIARY.)
In a desperate attempt to get some of beloved to friends to visit me before my big move across the world I have decided to put a 4 piece travel guide for my current hometown: Tulsa, Oklahoma. With Tulsa Tough visitors coming in and the fabulous shows we have lined up with Cain's Ballroom, The Brady Theatre, and BOK, I figured this would be a wonderful way for those people to explore my favorites. Part one...The food diary, has already been published here for everything you need to know about my favorite things to eat! But now we talk about very important matters such as coffee and cocktails!!! I mean those are critical!! Get prepared to get very very thirsty!
Tulsa has the best coffee in all of The U.S and I would know this because I am a coffee addict and travel to lots of places exploring their coffee scenes. And cocktails...there is no shortage of some good libations to get your weekend started right in my current hometown!
Hodges Bend: Where everyone knows your name and Hemingway would approve. This corner (3rd street and Lansing) haven of mine can make you glorious coffee AND cocktails...which just makes perfect sense to me. This pair belongs to live together under one roof. Hodges Bend resides in a green and gold-trim building constructed in the 1920s. The name "Hodges Bend" is a callback to the neighborhood's moniker from when the building was originally erected, back before it became known as the East Village. Topeca owners Chip and Margarita Gaberino teamed up with Hodges Bend co-owner and General Manager Noah Bush to meticulously design a space befitting the 90 year-old building. The interior feels like it is from the 1920's, just not Tulsa in the 1920's; the finish out is plucked directly from Prohibition-era New Orleans. I have the hugest crush on the white Italian Carrera marble countertop, a direct homage to the turn-of-the-century New Orleans cocktail bar and that gorgeous La Marzocco Strada MP . She's a freakin' beauty. The lattes are divine and I love the sausage rolls that come from The Gaberino's other business called Heirloom Bakery. Happy Hour is a really great time to go as they always have some delicious wines to chose from. I am becoming more a wine lover so this gives me the perfect time to get some "research ' done. Hodges Bend also is the home of the BEST Irish Cream Coffee and I highly recommend The Pain Killer cocktail . Al though be forewarned these are sometimes responsible for my all day Sunday Funday excursions. I love that they do Tiki drinks here. And of course you can get your full TIKI on at their other bar The Saturn Room. (more info on that will be on this guide too )I kinda feel like Hodges was made for me. I use it often as my office space . Perfect place to just get lost and surrender to that to-do list. It's kind of embarrassing how much I am here. My monthly credit card statements to Hodges are pretty crazy. This could in fact be my second home. (PS: best cheese tray in Tulsa...plus the best food from their food truck that serves as a kitchen to their bar. You can read more on that here)
Vintage 1740..or as local Tulsan's would just call it wine bar. This intimate little gem of a place (and drum roll..My absolute favorite bar in T-town) has the best patio in The Spring and Fall seasons. And I adore the vintage eclectic decor inside. They support small production wineries and I love the wine flights to help me in my wine research. Water separates the people of the world, wine unites them is their motto. The cocktails are divine. I highly recommend a classic French 75 . Believe it or not, The French 75 is easy to mess up and I can assure you Vintage 1740 will not disappoint . I also adore The 1740 Cosmopolitan. Such an oldie but a forever goodie. (Just ask Carrie Bradshaw and Samantha Jones) I will never put that one to rest ! And if you love the taste of pecan pie and appreciate Mad Max as much as I do, you must indulge yourself in a Golden Furiosa. The black walnut bitters in this cocktail are heavenly !!! They always have a great playlist which earns major brownie points with me and I love the old movies they play . This is the perfect place to gather with friends and the perfect date night spot ! Love you Vintage 1740!
East Village Bohemian Pizzeria: Now I know this is a restaurant primarily but this little East Village gem is serving some of the best cocktails in Tulsa. Now Lin will tell you I only like them because of the names( i do adore everything about The Beat Generation) and the pretty cocktail glasses but that's not true ! That is an added bonus though. And their patio is seriously a little vacation. In warmer temps they will keep you as cool as possible with shade and misters and in chillier temps, don't fret. They have heaters and blankets to keep you comfortable. Living in Dallas for 7 years that's one of the things I miss most. I love eating outside as long as it's comfy. I adore just hanging out there with a cocktail and the newest issue of Porter to be honest. So here's the deal. They have an amazing happy hour from 3-5 during the week and then they do a late night happy hour Wednesday & Thursday from 9-11. The Bohemian Cocktails are all divine. Yes, I have tried every single one. Don't judge. But my faves are The Gypsy Rose. (St. Germaine, Pomegranate Grenadine, Fresh Lime Juice, Topped w/Prosecco) The Hunter S. Thompson (Bombay Sapphire East Gin, Solerno Blood Orange Liqueur, Cherry Heering, Pomegranate Grenadine, B&B, Pineapple Juice) Caliente Kerouac Margarita (Roasted Jalapeno Infused Anejo Tequila, Solerno Blood Orange Liqueur, House-Made Sweet & Sour, Splash Fresh Squeezed OJ, Served Up w/Salted Rim) and The Hemingway Daiquiri (Cana Brava Rum, Fresh Squeezed Grapefruit Juice, Fresh Lime, Simple Syrup) I mean are you guys surprised??! Omg. I am ready for a Gypsy Rose right now! P.S their house wine is pretty darn good and the cute little glasses they serve everything in are my love language ! Your instagram photos will get double the likes. (Bohemia..any chance of bringing back The William S. Burroughs , though?)
Foolish Things Coffee Company: Here is where you will find my favorite pour- over and my favorite iced latte! In the fall/winter season they have an orange blossom hot cocoa that I cannot get enough. The communal tables are interesting allowing you to make some new friends. I love how they know coffee can create a community and you definitely feel every inch of that when you walk in. Also a lovely environment to be productive with that to-do list. The downtown location is quite convenient and there is great parking so do not fret! The baristas are the friendliest too.
White Lion: Seriously a hidden gem in S. Tulsa. In fact, I almost forget I am not in The UK when I am there. Classic alehouse in a stately building with British cuisine & customary English & Irish beers. You really feel like you are in a small town English pub. If you love beer, this is the place for you. My Lin loves loves loves beer so there is no twisting his arm with this one ! As one would expect there are plenty of British and Irish beers on tap, including Boddingtons, John Smiths, Old Speckled Hen, Beamish, Harp, and Guinness to name a few. The Guinness is so smooth and you will want to order a pint of Brown Bitter. It's their house beer and it's so smooth for a dark beer. Their front room is filled with house furniture and called the Churchill room. If you can snag it with friends it's a fantastic place to hang out and catch up . I have even played cards with my group and it's a blast ! The menu is good too and it all tastes authentic, not surprisingly as Betty the landlady and dab hand in the kitchen, is a native Liverpudlian. If you're craving a decent plate of sausage beans and chips, just like your mum made them, then you can't go wrong. There are plenty of other dishes on the menu, plenty of desserts and a good Christmas dinner complete with crackers to pull! Even join in the sing-alongs that Betty leads. (photo by Tulsa World)
The Saturn Room: AKA Tropical oasis in T-town. And I hope you love rum!! This gem has a killer patio with plenty of seating and a great view of downtown. It's perfectly tacky also and I mean this is such a positive way. When you enter you're greeted by the breasts of a naked hula woman....on a painting. The whole place is dimly lit and I adore the island decor transporting me to my special island. They have a huge Tiki drink menu using the finest spirits and fresh juices and ingredients to hand craft each cocktail order. I made the mistake of getting a Zombie my first time there. ...Notoriously known for being packed with alcohol. It was very strong. Very, very, very strong. OMG. Still recovering from that one. If you're wanting a one and done then this is your new best friend. However, that is not the drink I'm going to recommend. If you've never had a Tiki drink, then you need to get "The Chi Chi." Or I equally love the Caribe Welcome! And I need that puffer fish now !!! So glad Noah has brought the TIKI to T-town! Have an incredible time Island hopping through the Caribbean!

Dilly Diner: I am a sucker for hound's-tooth, I just am and mimosa bottle service! Yes, you read correctly. This is an ideal Sunday Funday spot to just keep the mimosas flowing!!! (all day breakfast served here too if that's your thing ) Hashtag #dillydrinks.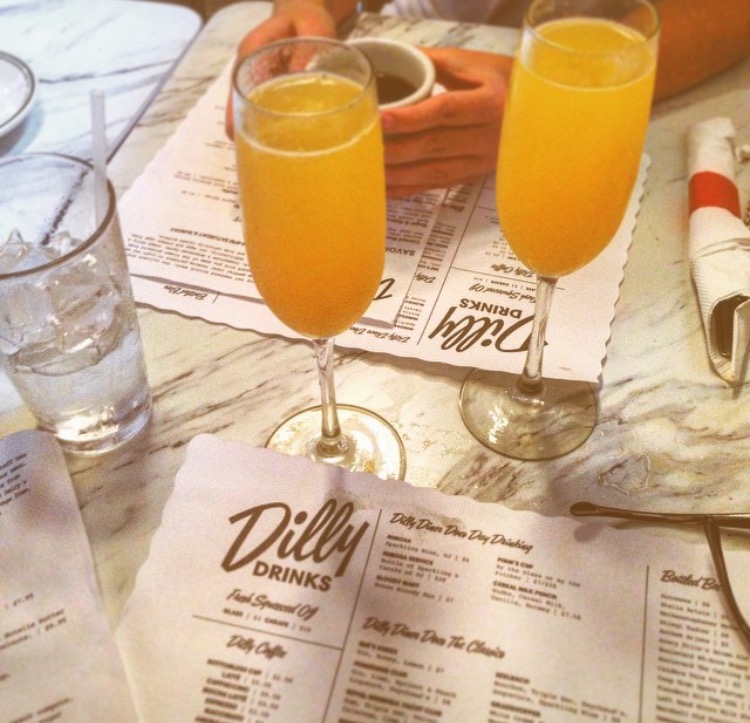 The Wild Fork:This is where you will find me enjoying the best Bloody Mary in T-town. The mimosas are divine too. And I live for their margaritas with chile salt. And this patio is one of my favorites in all the land. It's the perfect spot to people watch in Utica Square and do bring your sweet pup!
Mixed Company. "We've had a lot of people ask, "What kind of bar is MixCo?" Which was the exact same question we asked ourselves when we set out to open a bar on the borderline of the Deco and Arena Districts of downtown Tulsa.The art of handcrafting cocktails, or mixology, if you prefer that term, has been a hot trend in the industry for several years. But as much as we love making (and drinking) new and classic cocktails, we're also passionate about wine. And beer. And whiskey. We can't see doing without any of them, frankly, or asking our customers to. After all, we have a downtown kind of crowd: a diverse bunch of people who enjoy lots of different things.So, we decided to mix it up for you. To offer variety and quality in an atmosphere that everyone from business people to concert-goers to our fellow bartenders will find welcoming and relaxing.What kind of bar is MixCo? Well, we could say it's a mixology/wine/beer bar in an updated classic setting that could be termed deco-meets-dust bowl, but that's a bit of a mouthful." This basement bar was love at first sight for me and i cannot get it out of my head. I love this gem so much. It ignites my 5 senses ! I heard a little rumor too that they are opening up a kitchen very soon and this thrills me to pieces because I miss Nico's food so much!
Doubleshot Coffee Company truly is the best coffee in the world. The whole entire world. And it's a good thing he ships because I am going to have to be able to have my fix in Barcelona. Brian Franklin has a very interesting story that you can access here. This is almost a daily stop for me and the coffee that we enjoy in our own home every morning. This coffee holds the most special place in my heart. Brian also has his own coffee blog that I have learned so much from reading! The baristas are so very well trained here too. And every shot pulled is given the finest attention. You will have zero regrets coffee lovers.
Soundpony: Or as I call it Le Pony...I have saved the best for last. This gem is will always have a special place in my heart. Sooo many memories, so many great bands discovered which have become life long friends, so many trivia games, and soooo many bathroom pics !!!! ( i do miss the newspaper) You will be able to enjoy many various beers (i love Chimay) and they have a full bar to make you a mixed drink. I love a good dive and this handsome little stud is the funnest. And right in the middle of all the action for you Tulsa Toughers. .... Don't skip this!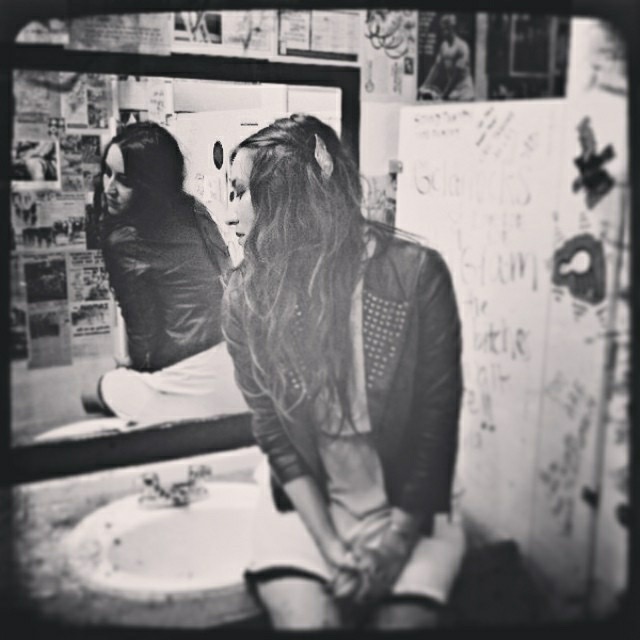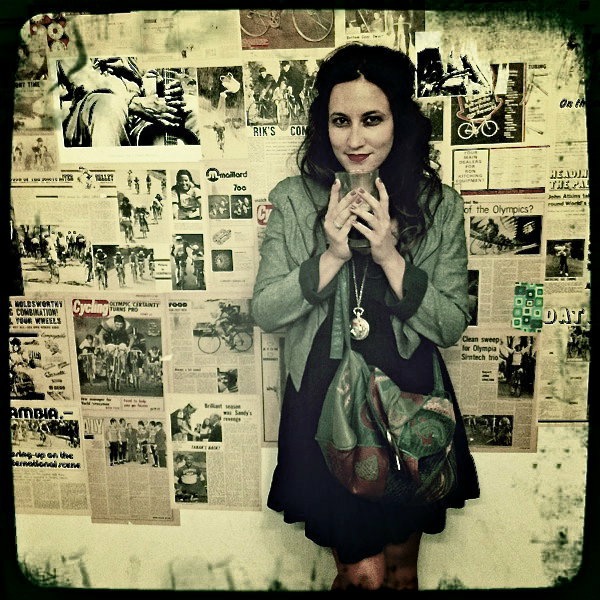 The biggest party will soon be in town and I am so ready for for the spandex rodeo !
Happy drinking !
Shop the guide here !