126 Miles With Claude, Easy Tiger & Sunshine
So funny thing, having gone to school in Oklahoma City (I graduated from PC North) we would actually spend numerous weekends in Tulsa because at the time there was more to do. And now..I feel like it's just the opposite! I would really live in OKC over Tulsa to be honest! Having a daughter who lives in Edmond, I travel to OKC on the regular and definitely have some favorites! And with one of my favorite hotel's (21C) coming there...I have a feeling weekends in OKC will be the norm until we leave for Barcelona. Lin and I drove by the fabulous space last weekend and it's beyond fantastic. The new 21C is now the home of the historic Ford Motor Company Assembly Plant. A nearly 100-year-old, four story brick building was built by Henry Ford as a Model T assembly plant. The update of this iconic industrial building will include 135 hotel rooms, a contemporary art museum and Mary Eddy's Kitchen + Loungeinspired by regional culinary traditions. The 21c Team hopes the project will be a catalyst for additional economic development at the western edge of Oklahoma City's Film Row. I have always been intrigued with this building and area of town. It will be ready as early as June 16th so you better get on those reservations, myself included. I may never leave! So...we love taking our Porsche named Claude (I name everything in my life, it's ridiculous) via Route 66 and off to OKC we go. Ryan Adam's Easy Tiger is always on rotation too. here is just something about that album and driving with me...they simply go together like PBJ. But really anything Ryan Adams is gold to me. That man is a true legend.
Reminiscing of traveling Route 66...is anyone, like me, obsessed with Elizabethtown? Well this movie is only my second favorite in the whole universe of movies. Cameron Crowe is also a legend in my life and Lin swears I am the real life Claire Colburn. I am constantly quoting the film and always take pictures of Lin with my imaginary camera. He thinks we share the same quirky personality! I cannot help but think of this film every time we jump on The Mother Road. In Elizabethtown, there is a road trip in the last 15 to 20 minutes of the movie and Oklahoma loves, you will definitely see some familiar places along Route 66. Once it starts, it gets to some good roadside attractions, including the round barn on 66 in Arcadia. The trip begins when Orlando Bloom (Drew Baylor) opens the book of maps and music CDs that Kirsten Dunst (Claire Colburn) has prepared for him, and folks who watch closely will get a glimpse of Route 66 on the book's cover. The gorgeous survivor tree is also in the movie and happens to be my favorite tree in all the land of trees. So I highly recommend you get your kicks on more than 400 miles of Route 66 in Oklahoma. The nation's longest drive-able stretch of Route 66 cuts through Oklahoma, making its way past charming towns, roadside diners and quirky attractions. (definitely go to POPS) Avoid the turnpike and try it! It's our fave way to travel to OKC from Tulsa and vice versa. We have always wanted to do the whole stretch across The U.S. too but just have not made it that far yet. Hmmmmm......maybe one day ! And how fun would it be to create a Claire music/travel diary just like the one in the film??!!!
And of course here are my Oklahoma City cannot-live withouts:
SAM'S OKC EAT/DRINK GUIDE:
Cheever's Cafe: This gem has to be one of the best restaurants in the entire U.S. Everything is delicious. It used to be a flower shop and they still have the 20-foot flower display cooler that sits as the centerpiece of the restaurant displaying a variety of deserts and wines. I have a huge crush on those original terrazzo floors too! The cocktails are divine and I often cannot stray away from the chicken fried steak. The jalapeno cream gravy is just!! For a lighter option the shaved brussel sprout and kale salad does not disappoint. The strawberry sweet biscuits for desert are exceptional.
The Drake: This place is just so easy on the eyes. It's stunning! The cocktails are sublime and their scallops are the best I have ever had! Their menu is written to be shared, served family-style in the center of the table. Think impromptu dinner party with friends which is soooo my love language. Dishes will be served "as ready" the moment the kitchen finishes preparation. I love the idea of sharing plates as it gives you a chance to try many different things on the menu. They recently added patio dining as well which is a huge plus for me!
Pizzeria-Gusto: Their Stefano Ferarra oven was hand-built in Naples. They import their tomatoes, flour and other fine ingredients from Italy. In addition to amazing pizzas, they feature a great selection of sharable small plates, appetizers, salads and made from scratch desserts. The pizza is delicious. The perfect Pizza Napoletana will have small charred bubbles around the outside of the crust and the center will be soft and this was absolutely the real thing ! After experiencing Neapolitan pizza, it's hard to go back to ordinary pizza. Highly recommend the Sopressata and The Cherry Tomato pizzas. The meatballs are divine too on the small plates menu. The roasted beet salad was perfect! And don't even get me started on the Butterscotch Budino. OMG.... worth every penny !!! I have never tasted pudding so wonderful. They have a wonderful rustic patio too! And the service is fantastic!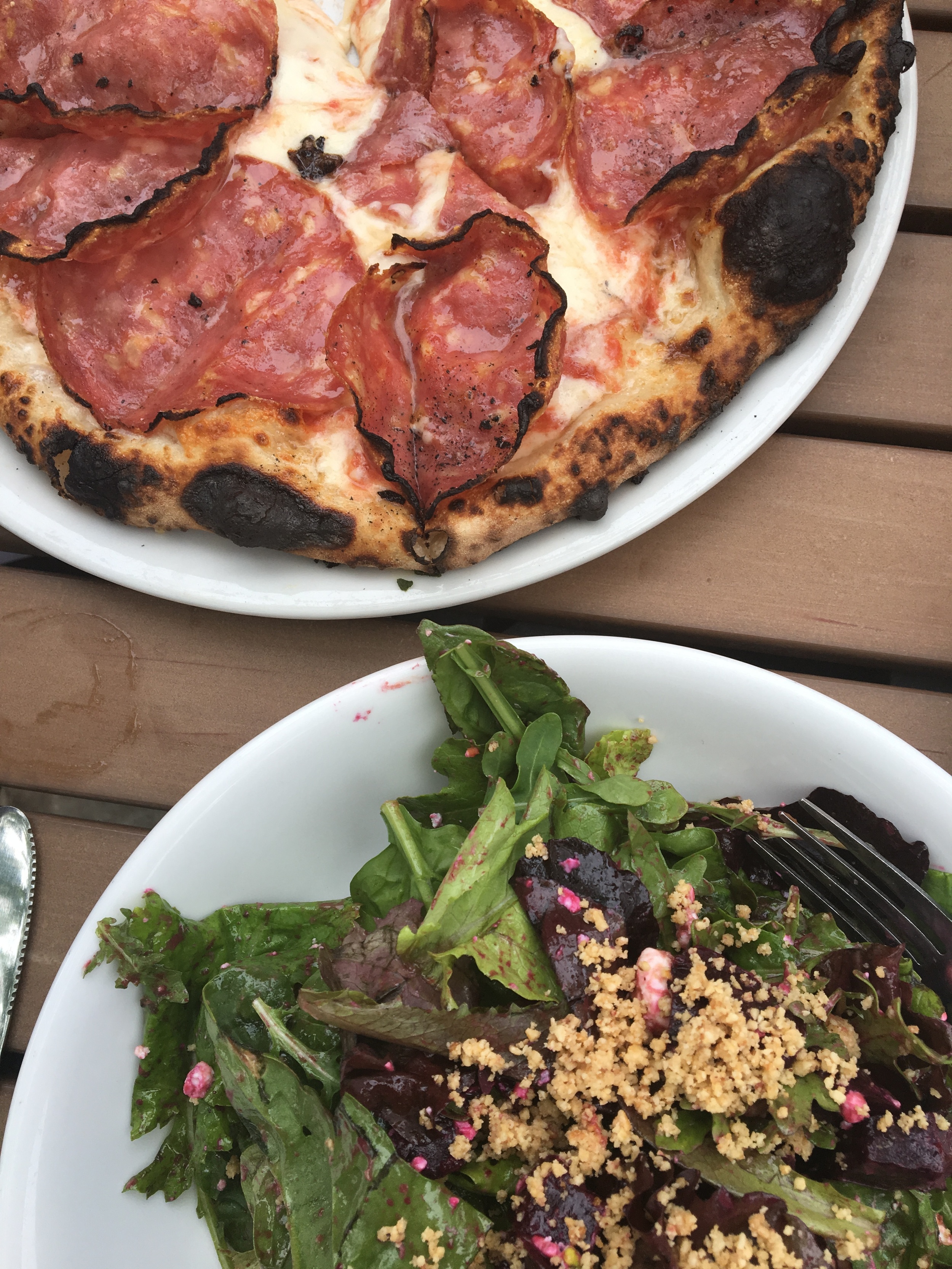 Kitchen No. 324: OMG! I adore this seasonally inspired cafe! It's a fantastic place for coffee and/or desert! And of course their lunch menu makes my heart sing! Really everything they do makes my heart sing. Everything they serve is handcrafted each day starting at 4am. They proudly use local, organic and sustainably farmed products when possible! Highly recommend their potato leek soup and coconut cream pie!
Picasso Cafe: Tucked away in The Paseo, which is one of my favorite areas in the city. Tons of vegetarian and vegan options too! Everything is made from scratch. The patio is quaint and dog friendly. Their Sunday brunch rules the world with their Build-Your-Own Omelet bar and the bloody Mary's are the best in the city! They also do late night hours too which I appreciate! You can get something healthy and homemade at a non-dinner hour and that is so special!
Do have a sammy at The Mule. Do have the anti-pasto at The Wedge. Do have a lunchbox at Edna's. Do go buy yourself a fantastic pair of sunnies at Black Optical in Classen Curve. Do eat a sea salt caramel cupcake at Cuppies & Jo and don't forget the latte at Elemental Coffee. Do have a cookie from Someplace Else Deli. Do go see The Oklahoma City Museum of Art. And of course go see The Womb!!! DUH. You might just run into Wayne Coyne or even Miley Cyrus ..who knows??!
Happy Road Trippin'
Shop the story here.