THE FIRST MONDAY IN MAY SLAYED. I LIVE FOR THE MET GALA RED CARPET.
I look forward to the first Monday in May every single year. Anna Wintour, the editor of American Vogue and the artistic director of Condé Nast, took over as chairwoman of the gala in 1999 and my goodness....she knows how to throw a party! Since then, she has been instrumental in transforming a local philanthropic event into the ultimate global celebrity/power cocktail: Take a mixture of famous names from fashion, add film, politics and business, and mix. It is among the hardest party tickets of the year to get — and thus intensely coveted. It's the fashion party of the entire year! This year's theme was Manus x Machina : Fashion in an Age of Technology. Who took my breath away in a good way and who just left me breathless in a bad way?? PS: I did see someone tweet...From the looks of some of these outfits, I think the Met Gala was invaded by aliens. Um....helllooooo....lady.....MANUS x Machina. That would mean they got the memo and nailed it ! I love a good theme !
BEST DRESSED:
The lovely Kate Hudson takes it all for me this year ! This is how you pull off a theme. She perfectly nailed the futuristic theme in this Atalier Versace gown made of shards of plexiglass and Giuseppen Zanotti heels. She looked angelic in this flowing bridal inspired gown with daring cut outs. Are you looking Nick?! Because we are !!!
My 2nd best dressed goes to Claire Danes. She totally had her Cinderella moment tonight! The Homeland actress turned heads in a pale blue princess gown by Zac Posen that actually lit up with fiber optics, perfectly embodying the theme of the night: Manus x Machina: Fashion in an Age of Technology. I am obsessed. Danes paired the jaw-dropping garment with jewels by Eva Fehren. OMFG!! I am drooling. Such a fairy tale moment !! GASP. Will you make me one Zac?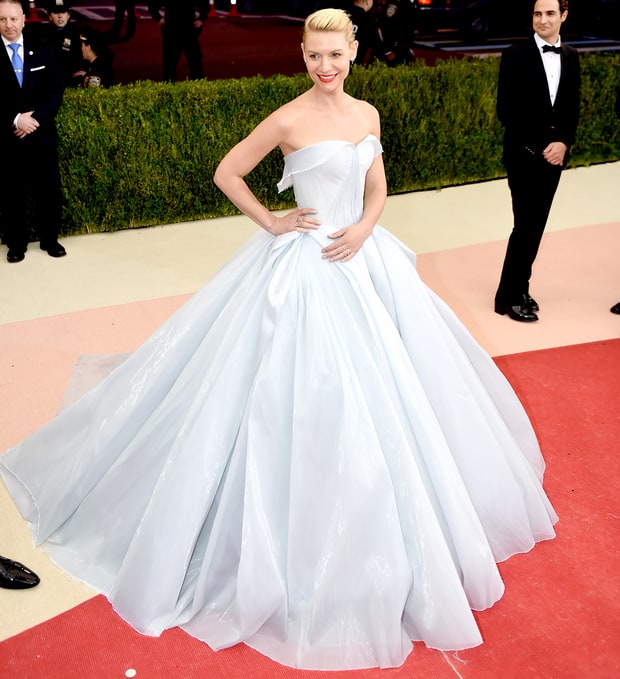 And third place goes to Kendall Jenner in Versace. This dress is the perfect example of how the handmade and the machine-made is perfectly combined in keeping with the theme of the night ! The star chose a sparkly blue-and-white caged design that features a halter neckline with major side cutouts and a high-slit from the back. Her beauty look was pared-down and super-sleek with a slicked-back pony and bronzed, glowy skin. Yep, I know ladies. Dust those juicers and cancel all weekend plans involving food. Sheesh.
Honorable mention: Lady Gaga. No pants! No problem! If anyone can pull it off, it's Gaga. I have to always judge my best dressed in keeping with the theme of the night and Gaga no doubt nailed The tech theme with this Versace circuit board-inspired jacket with square shoulder pads and fishnet stockings. And walking in those sky-high heels and not breaking your ankle deserves a round of applause! This freakin' jacket...I need!
Versace apparently just stole my little heart last night!
Of course a worst dressed has to accompany a best dressed and I am honestly just shocked that three of my always best dressed have to now live in Sam's worst dressed. Eeeeek.
WORST DRESSED:
Sarah Jessica Parker knows how to make an entrance and this babe traded in her signature sartorial headpieces for a very Hamilton-inspired cropped pant suit ensemble. Her Broadway-influenced look consists of an all-white Monse get-up with a tailored, military-inspired backless coat (with sheer, sparkly ruffled hems at the sleeve) plus a matching tank and loose-fitting cropped trousers. She accessorizes with an old-school portrait-style pendant and teams the whole look with pumps from her own SJP Collection line. She explained the process of getting Gala-ready with this year's theme was "more complicated" than past galas. She shared, "You have to really ponder how you're going to illustrate that in some way without having something that lights up or is LED. Technology becomes more about what we use outside that is a part of getting through the day. So for me I like arriving at this [outfit]." -(people magazine) Um....clearing my throat....SJP I am soooo confused.
Taylor Swift .. in a robo-chic Louis Vuitton look! Other ways to describe the outfit: Scaly? Yes. Bulletproof? Maybe. Sexy? Uh huh. Sticking to the night's "Manus x Machina: Fashion in an Age of Technology" theme? Very yes. But it just missed the mark for me? I can't quite put my finger on it but I just don't like it.
With Beyonce taking some time out of her Formation World Tour to make her mark at The Met Gala...I was just expecting something mind blowing , especially with her breaking the internet just weeks before with Lemonade. Queen Bey opted for a custom peach colored Givenchy latex gown which was covered in pink embellishments. I love the latex for the theme but just want to see it in silver or black. It looks so uncomfortable and I am not even going to repeat what the fans are saying on twitter . This dress did not work for me. I just thought she would be the one to take that whole Science Fiction theme to the next level ...Queen Robot.
Ohhhh Anna Wintour??!!! Where is my invite??
(all photos are via Getty Images)